Building dynamic jobs with BuildKite
This post's featured URL for sharing metadata is https://www.jvt.me/img/profile.jpg.
If you're using Buildkite for your builds, you may want to reduce duplication in your job's configuration by looping over certain variables, for instance "for each of these 5 environments, deploy the application".
Although you could use a shell script / loop through them in the actual pipeline's configuration, BuildKite's got some great functionality to dynamically define a pipeline.
However, while reading through this, I didn't find it clear as to whether you could only define the dynamic logic when you're defining the job's steps in the UI/via the API, for instance:
- 

command

:

 

".buildkite/script.sh | buildkite-agent pipeline upload"



Fortunately that's not the case, and we can see below that - as long as buildkite-agent is available in the executing environment - you can call buildkite-agent pipeline upload to dynamically insert whatever pipeline you'd like into the build!
For instance, if we have our job's steps defined as:
steps

:




- 

command

:

 

buildkite-agent pipeline upload .buildkite/pipeline.yml



Then we can define .buildkite/pipeline.yml as:
steps

:




  

- 

label

:

 

":go: Build"




    

command

:

 

"echo go build -o list-environments"




  

- 

wait




  

- 

label

:

 

":aws: Determine environments to deploy to"




    

commands

:




      

# if this was a built binary, not a shell script, we'd use `buildkite-agent artifact download` here




      

- 

./list-environments | .buildkite/dynamic-steps.sh | buildkite-agent pipeline upload



In this case, we would see the following resulting result: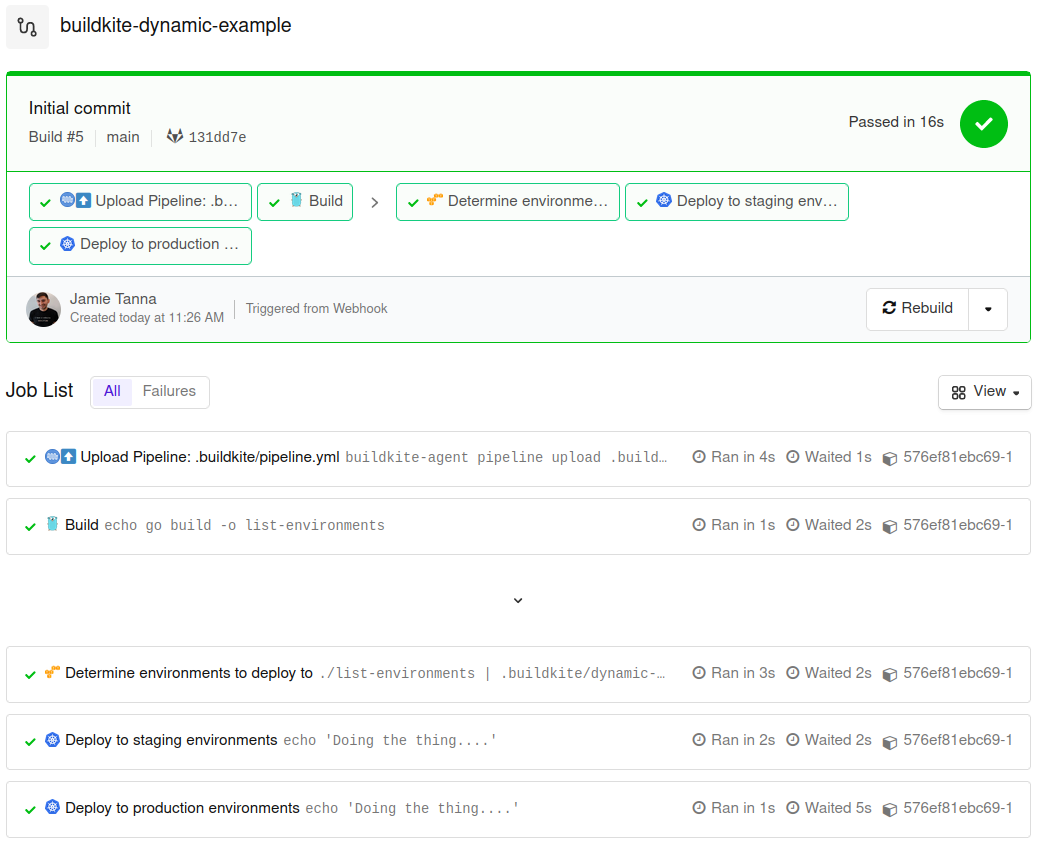 This can be found as an example project on GitLab.com.